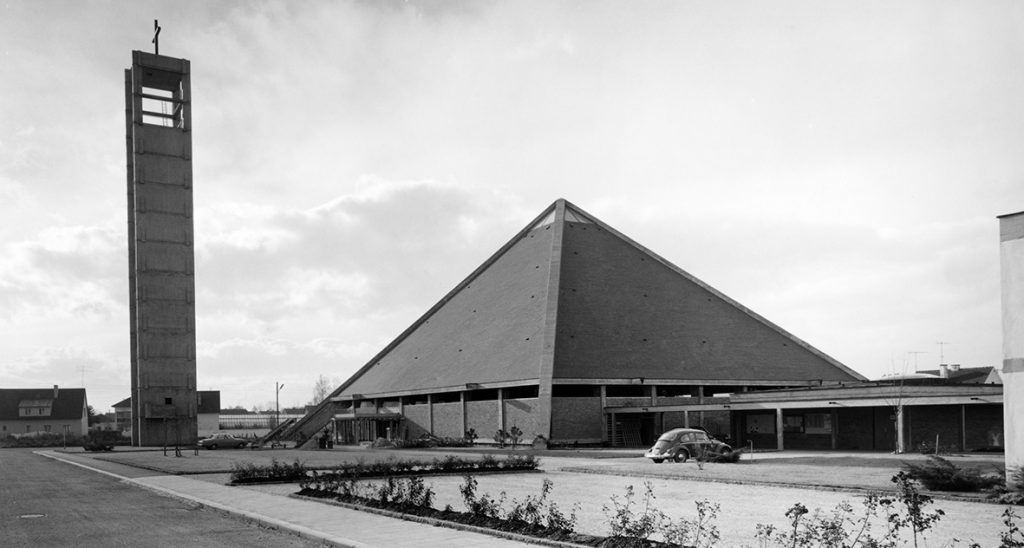 "The declarations about the future made in the experiments of the young in the late-1960s, such as by Hausrucker and Himmelblau, took shape with Odorizzi and had a foundation without relinquishing the character of the experimental." (Günther Feuerstein)
Lower Austrian Karl Odorizzin (*1931) is a universal talent. He supplemented his architecture training at Graz University of Technology with courses in graphic design and painting, singing and dramaturgy, and stage design. From 1948 he ran an architectural office in Wels (Upper Austria), and worked alone most of the time — which is surprising considering his extensive oeuvre, encompassing pioneering schools, churches and a large number of single-family homes. Karl Odorizzi is one of the exponents of Austrian post-war architecture who is yet to be discovered. Architecture in Upper Austria has lacked attention alongside the more dominant architects from Graz, Vorarlberg and, more recently rediscovered, Burgenland. So, the Az W is all the more delighted to have Karl Odorizzi's archives as the latest addition to the Collection.
"I'm looking for life." Karl Odorizzi
The parish church in Wels-Lichtenegg (1962-1966) represents an early highpoint in Odorizzi's preoccupation with concrete, a raw material that was undergoing a boom at the time. In 1952 the priest Stephan Macsady, who had fled from Hungary, initiated a "camp church" on the site of a barracks camp where displaced persons had been housed after the war, while it soon became too small. In 1959 Odorizzi had been invited to enter, and won, a competition for the design of the church. His proposal was for a square ground plan of 50 x 50 metres, above which a pillarless concrete tent is stretched. The pyramid's 24-metre-high pinnacle lets in light, as does the band of windows made of coloured glass blocks above the base. Even during construction, the decisions of the Second Vatican Council were taken into account and a post-conciliar arrangement was implemented instead of the original diagonal alignment with the altar area in one corner.
While many architects of the time saw the future in just concrete, Odorizzi experimented simultaneously with fibre-glass reinforced plastics, and became a pioneer in this field. Based on the concept of "space-time", which presumes a necessary change in a given space over time, Odorizzi saw maximum flexible design possibilities in plastic elements and great potential in this lightweight material and its possibilities as prefabricated elements. An early example of this is the "Haus des Huhnes" a poultry breeding facility in Marchtrenk (1965-1967), where double shell wall elements made of fibre-glass reinforced polyester were used to facilitate the necessities of hygiene — daily washing and disinfection. The building was inspired, as was its colour, by Odorizzi's car at the time, a Citroën DS 19 that is clearly shown in an iconic photograph from the period.