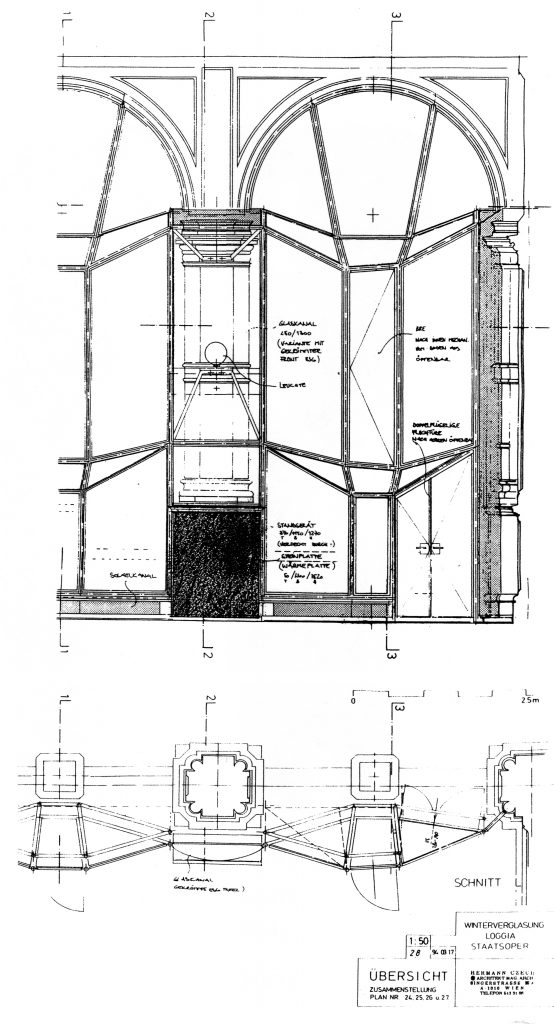 On 12 March 1945 Vienna was heavily bombed in a devastating air raid that also inflicted lasting damage on the Wiener Staatsoper — completed in 1869 according to plans by August Sicard von Sicardsburg and Eduard van der Nüll. 50 years later the winter glazing for the logia attracted attention in the press.
"Van de Nüll died because his opera house they did slur: at least one grows accustomed to it — though it's too deep in the ground, as it were. If van der Nüll could rise from the dead to see just how the new windows spoil his work now, he could only end his life again, so dreadfully have they been done." (Wolf Martin on 6.1.1995, in his Kronen-Zeitung newspaper column)
In 1991 Herman Czech (born 1936), known for his subtle interventions in historic buildings, was entrusted with a winter glazing for the loggia of the Staatsoper. The open air space, decorated with frescos by Moritz von Schwind, had been exposed to decades of frost and damp. Czech's controversial design lent the incunabulum of Viennese Ring Road architecture an additional design level. The fincaning came from Casino Austria, who run a gambling room in the loggia every year during the Opernball.
The glazing retreats behind the sculptures to leave them enough space. While the parapet zone leaves more room for movement indoors with a recess outwards. The result is a complex, net-like, dipped configuration of glass levels. It does not deny its character as a foreign object and can be assembled in only a few days. Christian Kühn compared the glazing to a dental brace — they can be charming, too, especially if you know it's going to come off again.