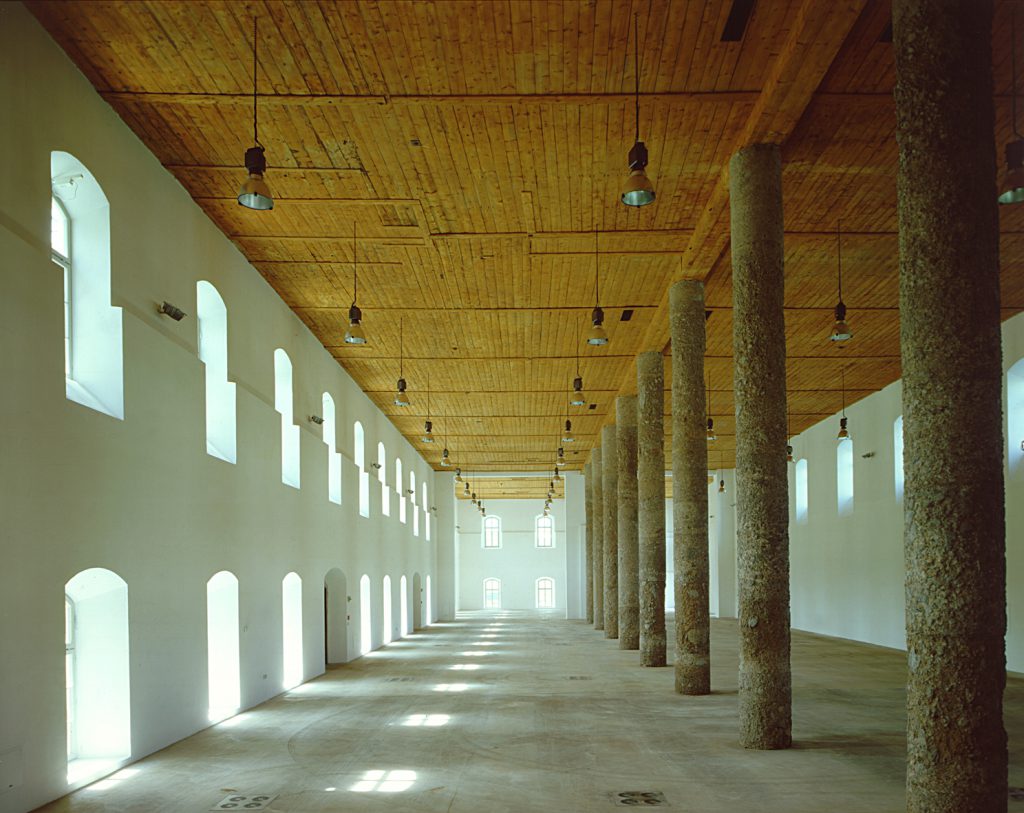 Visitors to Hanno Schlögl's studio in Palais Tannenberg-Enzenberg in the centre of Innsbruck found themselves in an impressive rococo hall with rich stucco and ceiling frescoes by Christoph Anton Mayr (ca. 1740).
The historical setting where the architect worked indirectly references two of his key works where the handling of the existing substance plays a key role. Respect for history and decisive architectural interventions are combined to create unique spatial experiences.
In 1995 Schlögl was commissioned with the renovation of the devastated salt storage depot in Hall, Tyrol. The vast sacral feeling interior with the salt-eroded columns over nine metres tall of Höttinger breccia is an industrial monument of the first order, although it was hardly regarded as such anymore. Following the conversion it shifted once again into the public eye. The miraculous, auratic space is complimented by the former shunting building, which is situated parallel to it and has been transformed by the architect into an elegant entrance tract. Today, the imposing building almost adopts the function of a gate to the town. Immediately afterwards, Hanno Schlögl was once again able to show his expertise: The Galerie im Taxispalais, housed in Innsbruck's oldest baroque palace, was in need of an extension. Schlögl won the competition with an unusual concept: He placed the required exhibition hall underground and covered it with a glass and steel construction, preserving an unobstructed view of the baroque façade. The coexistence of old and new in both cultural buildings is still exemplary today for a sensual and intuitive perception of space where the encounter between architecture, visitors and the objects on display is established with apparent ease.
Hanno Schlögl was born in 1944 in Hall/Tyrol. He completed his studies under Roland Rainer at the Academy of Fine Arts Vienna in 1967. He was on the cultural advisory board in Tyrol from 1989 to 2004, taught at Innsbruck University from 1991 to1998, and ran an office in collaboration with Daniel Süss from 2003 to 2018. He had been running his own architecture office again since 2018. Hanno Schlögl recently died on the 3rd of december 2020.