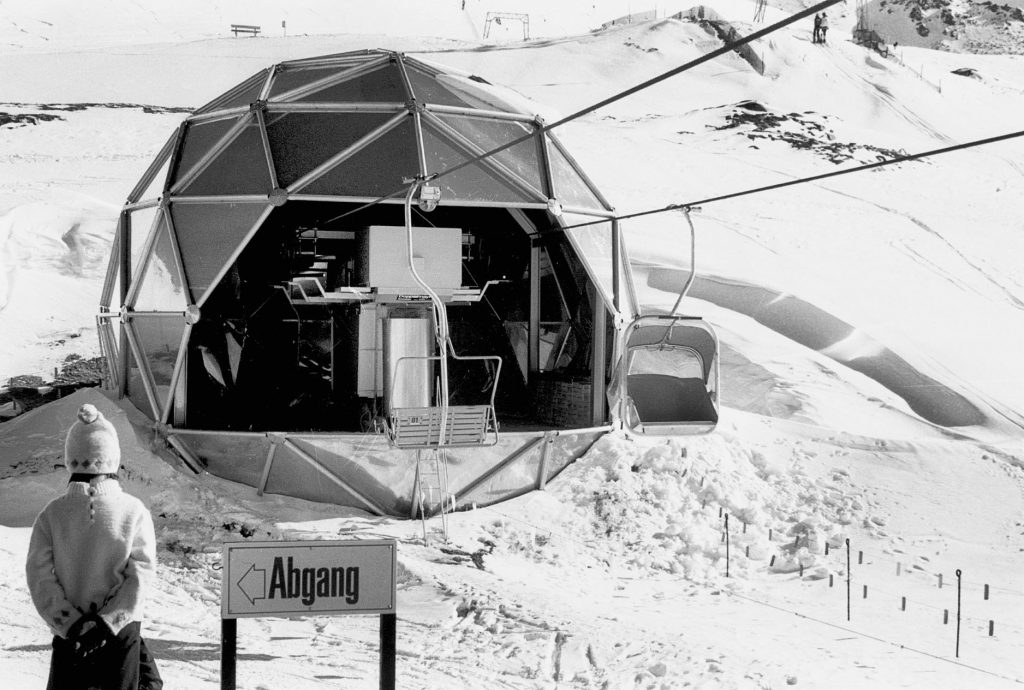 "Garstenauer's Gastein architecture from the 1970s remains world class, the way it has been treated is shameful, and engagement with it is a must for the current generation of active architects." (Ute Woltron)
Gerhard Garstenauer wanted to counteract the decline that began in the 1960s of the formerly exclusive Bad Gastein spa resort with a series of new buildings to enhance its identity. He ultimately completed an outdoor rock pool dynamited out of the mountainside, a congress centre and four futuristic looking ski lift stations on the Kreuzkogel (1971-1972). In doing so, he realised uncompromising Utopias of the kind only envisaged on paper elsewhere. Several negatives and plans have been conserved in Friedrich Achleitner's extensive archives.
The four spaceship-like metal capsules were constructed in such a way that they could survive conditions high up in the Alps, such as strong winds, heavy snowfall and extreme temperatures. The spherical shape also permitted 360° views of the mountain peaks. The photographs of the transportation of the balls by helicopter at 2,600 metres above sea level are legendary. Everything was perfectly calculated, but suddenly the helicopter couldn't lift the ball before the assembled festive community. The idea that saved the day: The finished door was speedily dismantled and the spectacular flight to the glacier could go ahead after all, and the local brass band was able to sound their fanfare.
Gerhard Garstenauer was born in 1925 in Fusch, and studied under Siegfried Theiss at the technical college in Vienna from 1947–1952. He was a freelance architect in Salzburg from 1954. From 1973–1978 he taught at the University of Innsbruck, qualifying as a university lecturer at Graz University of Technology. His architectural work is primarily to be found in the city and countryside of Salzburg. Although his major claim to fame is his development in the Gasteinertal valley.