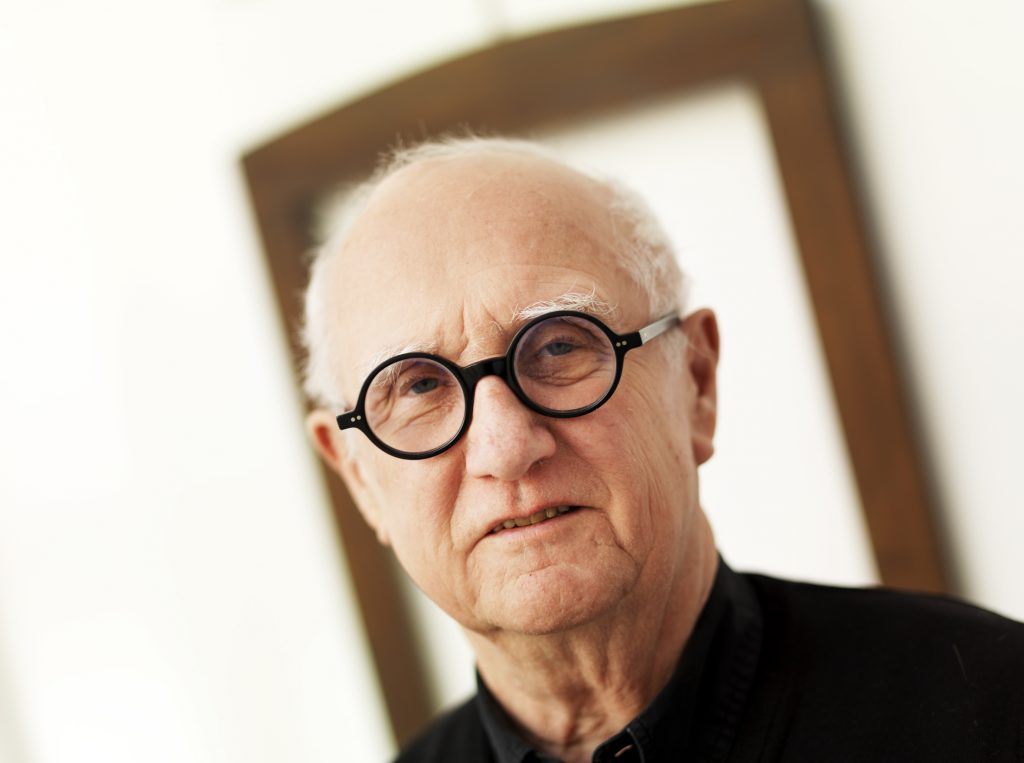 The Friedrich Achleitner Archive is a unique documentation source for the legacy of 20th century architecture in Austria.
"An important point is only to talk about things that one has seen. On site. And that one knows. And that one photographs." (Friedrich Achleitner)
In the 1960s Friedrich Achleitner started to survey Austria systematically. The five-volume work "Österreichische Architektur im 20. Jahrhundert", which covers all of Austria's federal states with the exception of Lower Austria, combines his research work in a striking and concise way. Friedrich Achleitner's extensive archive bears witness to his research work and site visits, which extended over a period of decades. In 1999 it was acquired by the City of Vienna and transferred to the Architekturzentrum Wien. As well as including sizable amounts of secondary material the archive derives its strength from Friedrich Achleitner's view of the built environment. Innumerable photographs and slides made during site visits are today visual witnesses to buildings that either no longer exist at all or only in a much altered form.
The archive comprises
22,340 index cards about the buildings
2,690 index cards about the architects
66,500 photograph negatives
37,800 slides
13,800 photo prints
570 plan drawings
250 inspection plans
1,030 books, brochures, catalogues, magazines (at present complete years of the following magazines: Profil, Der Bau, Der Aufbau, Perspektiven, Bauforum and others)
Topographically organised material boxes
Friedrich Achleitner: Biography
Born on 23.05.1930 in Schalchen, Upper Austria
Died on 27.03.2019 in Vienna
Lived and worked as freelance writer in Vienna
1950–1953 studied architecture and took his degree in the master class of Clemens Holzmeister at the Academy of Fine Arts Vienna
1953–1955 master class of Emil Pirchan, stage design
1953–1958 self-employed architect, collaboration with Johann Georg Gsteu
1958 Achleitner ceases working as an architect and becomes a freelance writer. As a member of the legendary "wiener gruppe" (Konrad Bayer, Gerhard Rühm, Oswald Wiener) he writes poems in dialect and concrete poetry and takes part in productions of the "literarisches cabaret".
1961 architecture critic of the "Abendzeitung"
1962–1972 architecture critic of the daily newspaper "Die Presse"
1963–1983 lecturer in "history of building construction" at the Academy of Fine Arts Vienna
1983–1998 head of the chair of "history and theory of architecture" at the University of Applied Arts Vienna
1998 made professor emeritus
1965–2010 Friedrich Achleitner writes his "Architekturführer zur Österreichischen Architektur im 20. Jahrhundert" (Guide to Austrian Architecture in the 20th Century)
Awards
1957 Theodor Körner Prize
1983 Camillo Sitte Prize
1984 Austrian State Prize for Culture Journalism
1990 Prize of the City of Vienna for Journalism
1995 Culture Prize of the State of Upper Austria for Architecture
1995 Gold Medal of Honour of the Federal Capital Vienna
1999 Prize of the Architecture Museum Basel
2002 Gold Order of Merit, State of Vienna
2004 Mauriz Balzarek Prize
2006 Montfortorden in Gold
2007 Prize of the City of Vienna for Literature
2008 Schelling-Prize for Architecture Theory
2008 Heinrich-Gleißner Prize
2011 Paul-Watzlawick Ring of Honour
2014 Awarded the Austrian Cross of Honour for Science and Arts, 1st Class
Œuvre
Architecture guide:
Österreichische Architektur im 20. Jahrhundert. Ein Führer in drei [ab Band III/1: vier] Bänden, eds. Museum moderner Kunst Wien and Architekturzentrum Wien (vol. III/3), Residenz Verlag Salzburg
Volume I: Oberösterreich, Salzburg, Tirol, Vorarlberg; 1980; ISBN 3-7017-0248-9
Volume II. Kärnten, Steiermark, Burgenland; 1983; ISBN 3-7017-0322-1
Volume III/1: Wien, 1.–12. Bezirk; 1990; ISBN 3-7017-0635-2
Volume III/2: Wien, 13.–18. Bezirk; 1995; ISBN 3-7017-0704-9
Volume III/3: Wien, 19.–23. Bezirk; 2010; ISBN 978-3-7017-3209-8
Bibliography (selection):
1959 hosn rosn baa, dialect poems with H.C.Artmann and Gerhard Rühm, Vienna
1960 schwer schwarz, konkrete poesie, eugen gomringer press, Frauenfeld
1967 die wiener gruppe, ed. Gerhard Rühm, with H.C. Artmann, Konrad Bayer, Gerhard Rühm, Oswald Wiener, Hamburg
1968 Lois Welzenbacher, monograph, with Ottokar Uhl, Salzburg
1970 prosa, konstellationen, montagen, dialektgedichte, studien, Hamburg
1973 quadratroman, Darmstadt
1975 WOHNEN ETCETERA, Munich
1977 Die WARE Landschaft, (ed.), Salzburg
1980 friedrich achleitner + gerhard rühm. super rekord 50+50, Linz
1986 Nieder mit Fischer von Erlach, (architecture criticism), Salzburg
1987 Aufforderung zum Vertrauen, (architcture criticism), Salzburg
1991 KAAS (dialect poems), Salzburg
1994 Die rückwärtsgewandte Utopie: Motor des Fortschritts in der Wiener Architektur, Vienna
1995 Die Plotteggs kommen, Vienna
1996 Wiener Architektur, Vienna
1997 Region, ein Konstrukt? Regionalismus, eine Pleite?, Basel
2003 einschlafgeschichten, Vienna
2004 wiener Iinien, (collection of prose), Vienna
2006 und oder oder und, Vienna
2007 quadratroman
2009 der springende punkt
2011 iwahaubbd. Dialektgedichte
2013 Den Toten eine Blume. Die Denkmäler von Bogdan Bogdanović