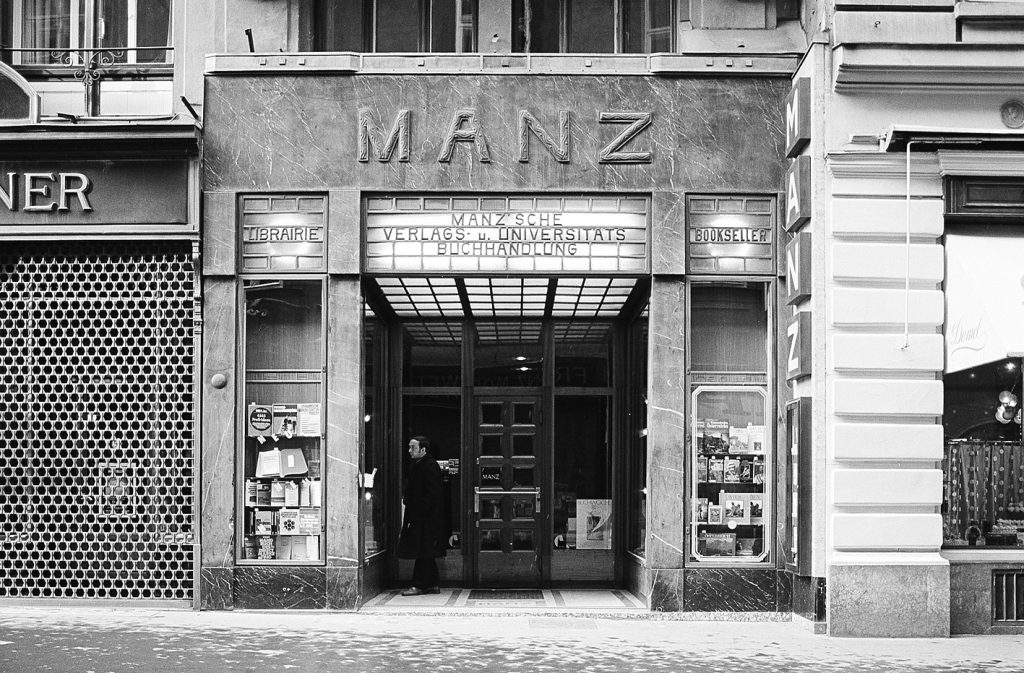 The architect did not want any faked showcases ("cast cement nailed on") comprised of painted plaster and industrially produced Neo-Renaissance clichés, he wanted displays with white veined black marble, gilded lettering and mahogany panelling.
In 1909 Adolf Loos was commissioned by Markus Stein and his son Richard to design the entrance to the premises of the Manz bookshop (completed 1912). In a letter, Richard Stein wrote to his father in 1909: "I have the feeling that your idea to choose him was a very good one, and that he won't make us anything crazy". Set back from the pavement and with an indirectly lit entrance that attracts strolling passers-by while radically increasing the display surface, Loos created architecture for a shop as is still in use today.
In general, shop entrances are among the shortest-lived constructions in any city because every change of ownership represents a threat to them. That the Manz bookshop is still owned by the family of the original client and has not changed its function makes it a complete exception to this. Margherita Spiluttini photographed the handsome shop frontage for her project of Viennese shop photographs (1981).
Adolf Loos (1870–1933) began studying architecture in 1892 at the university in Dresden, but left a year later to travel to the USA, where he visited the 1893 World's Fair in Chicago. He stayed in New York for a while before returning when he was called up for military service. He first attracted attention with the functional interior for the Café Museum (Vienna, 1899). Loos's best known building in Vienna is the (for the time) provocatively unadorned façade of the Goldman & Salatsch premises on Michaelerplatz in the heart of Vienna, built 1909-1911.