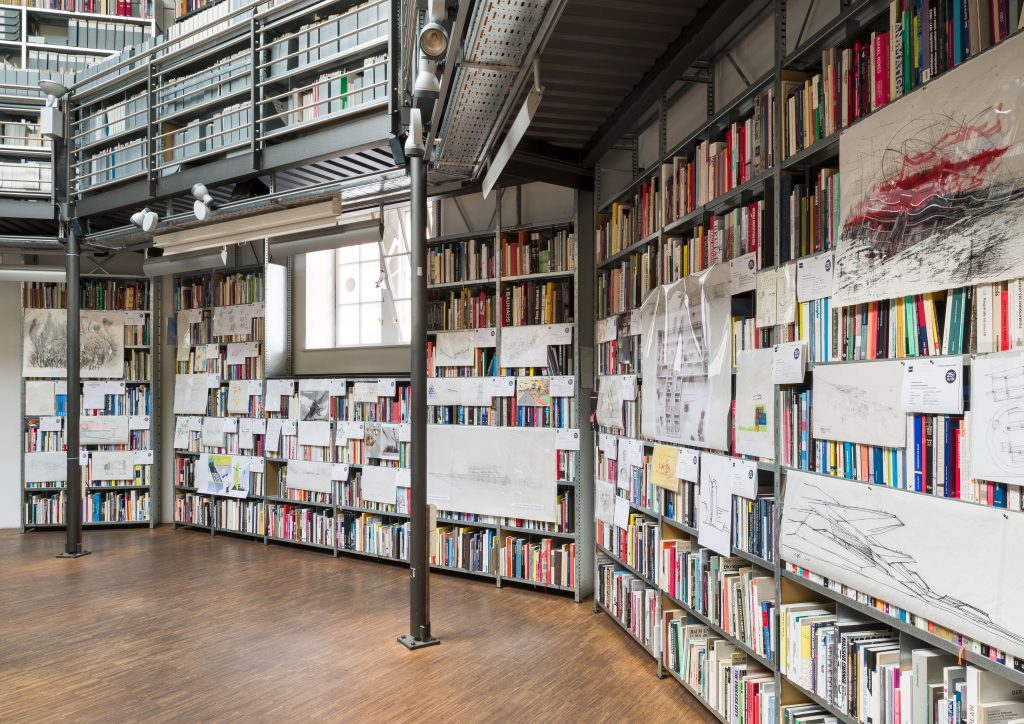 It is with particular pleasure that we look back over 2018, the year when the Architekturzentrum Wien celebrated its 25th anniversary, a jubilee for which we have been showered with gifts.
On 28 June 1993 the Az W was launched with the founding event 'Sessel gehen stiften!' in the premises of the former Messepalast. At the opening, the public was invited to donate chairs they had had in everyday use. The 128 very different chairs subsequently donated to the Az W provided our initial infrastructure.
To mark our 25th anniversary in 2018 we returned to the idea of appealing for donations. This time we drew attention to the now important collection of the Architekturzentrum Wien. With over 85 living legacies and bequests of estates, a comprehensive Project Collection, the Friedrich Achleitner Archive and the Margherita Spiluttini Photo Archive, it is the largest architecture collection of 20th and 21st century architecture in Austria. To mark the 25th anniversary, we called on architects who are not yet represented in our collection to donate a sketch, a drawing or a collage. More than 130 architects responded to this appeal, and it is with great pleasure that we now present all of the donations received.
Our heartfelt thanks to all donors, whose generosity has added several new perspectives to our collection!
LIST OF DONORS
ABEL Gerhard / PLANET ARCHITECTS
ALVERÀ Alessandro
AUBÖCK Maria / AUBÖCK + KÁRÁSZ LANDSCAPE ARCHITECTS
BÄRTL Thomas / SÖHNE & PARTNER Architekten
BERGER + PARKKINEN ARCHITEKTEN
BERNARD Erich / BWM Architekten
BORTOLOTTI Clemens / riccione architekten
BUKOVAC Stefan
CEDE Tilwin / riccione Architekten
DELUGAN Roman / DELUGAN MEISSL ASSOCIATED ARCHITECTS
EICHINGER Gregor / eıchınger offıces
FATTINGER Peter/ORSO Veronika/RIEPER Michael
FEINIG Willibald
FERENZCY Stephan / BEHF Architects
FRANK Sepp / F + P Architekten
FUCHS Ernst J. / the next ENTERprise
GAISRUCKER
GANGOLY Hans / Gangoly & Kristiner Architekten
GEISWINKLER Markus / GEISWINKLER & GEISWINKLER Architekten
GEISWINKLER-AZIZ Kinayeh / GEISWINKLER & GEISWINKLER Architekten
HAAS Siegbert
HALLER Martin / Caramel architekten
HAREITER Angela
HEINDL Gabu / GABU Heindl Architektur
HEISS Christian / Atelier Heiss Architekten
HENKE Dieter / Henke Schreieck Architekten
HERMANN Hubert / Hermann & Valentiny und Partner Architekt
HOFSTÄTTER Michael / PAUHOF Architekten
HORA Daniel / MEGATABS architekten
ILLICHMANN Sebastian / illichmann architecture
KAPLAN Markus / BWM Architekten
KAUFMANN Leopold
KELZ Adolph-Herbert
KNECHTL Christian
KOCHER Michael
KONRAD Ben
LEITNER PRETTERHOFER SIMBENI ARCHITEKTEN
LICHTENWAGNER Christian / FROETSCHER LICHTENWAGNER ARCHITEKTEN
LINEMAYR Axel / pool Architektur
LOOS Siegfried / polar÷ architekturbüro
MAYER Johann
MITTERBERGER Gerhard
MONSCHEIN Christoph / O.H.A. Office for Heuristic Architecture
OBERHOFER Günther
PAUZENBERGER Wolfgang / PAUHOF
PICHELMANN Gustav / Atelier Pichelmann
PICHLER Christoph / Pichler & Traupmann
POLLAK Sabine / Köb&Pollak Architektur
PONTILLER Peter
PRETTERHOFER Heidi / ARQUITECTOS
REDÍ Ivan / ORTLOS Space Engineering
REUTER Markus
RITTER Gernot / Hofrichter-Ritter Architekten
ROSENSTEINER Bernhard
SCHARTNER Hans / RAHM Architekten
SALVI Michael / SCHENKER SALVI WEBER ARCHITEKTEN
SCHLÖGL Hanno / Schlögl & Süß Architekten
SCHREIECK Marta / Henke Schreieck Architekten
SOYKA Georg / SOYKA/SILBER/SOYKA Architekten
SPINDLER Konrad / Lichtblau ⎢ Spindler
STAGNO Angelo
STIEFEL Hannes / STIEFEL & COMPANY ARCHITECTS
STUDIOVLAYSTREERUWITZ mit Marta de las Heras Martinez
SYKORA Michael
THEMISTOKLIS Ioannou / ARCHITEKTEN am Graben
TILLNER Silja / Architekten Tillner & Willinger
TROY Juri / juri troy architects
TSCHOFEN Philipp / propeller z
TUSCHER Dieter
UNTERTRIFALLER Much / Dietrich ⎢Untertrifaller Architekten
WIMMER Robert / W zA Architekten
WÖRNDL Hans-Peter
WOLFMAYR Heribert / heri&salli