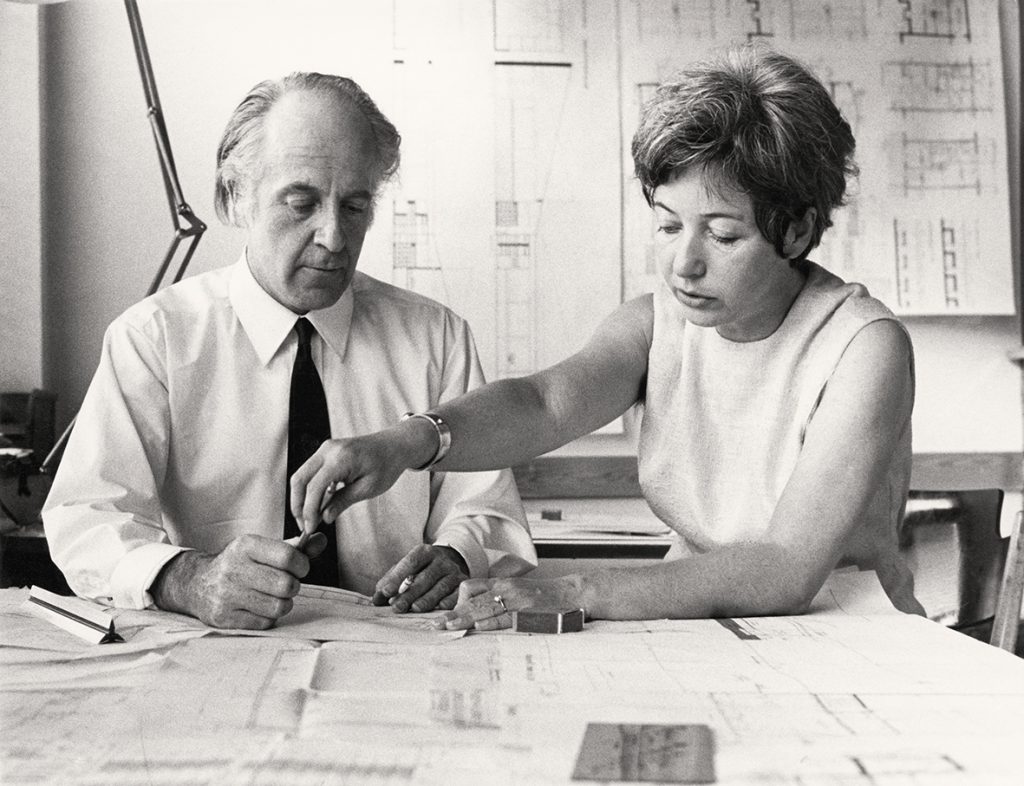 "Walking through the city you see beautiful sights and ugly ones, the good and the bad thrown together from the chaos that is called Capitalism, and then you run into something like the Ekazent, and suddenly everything is fine. A view, a couple of curious, explorative footsteps, and then that feeling: Yes, this is it, the new city is here, the future is here." Philipp Eichhoff 1
In the middle of Hietzinger Hauptstraße, with its historic rows of houses on the left and two two-storey baroque houses on the right — remnants of a time when Hietzing was still a village — a large stone mosaic springs into view, taking up the whole end of a five-storey building. This is where Traude and Wolfgang Windbrechtinger planned the Ekazent (1961-1964), Austria's first purpose-built shopping centre, in a whole complex consisting of four buildings: the five-storey building houses an office and hotel tract, a cinema and restaurant complex — with the 14.5 x 12 metre mosaic mural by Maria Biljan-Bilger, a one-storey tract of shops, and a two-storey tract of shops with a residential floor attached. While today's shopping centres are built on the outskirts of cities, grouped around a square these buildings form a small, local inner-city centre. The architect couple also collaborated with the artist Biljan-Bilger at the same time for their second well-known building in Vienna: the scenic Bellevue restaurant in Grinzing (1961-1963).
With these two public buildings, the Windbrechtingers created new concepts and formal solutions for entirely new facilities, that were met with varying reception. While the Ekazent (with some modifications) still exists today as a landmark on Hietzinger Hauptstraße with its mosaic mural, the Bellevue did not have a happy ending. It was torn down again a mere 19 years after its completion, in 1982.
The work of Traude (1922- 2017) and Wolfgang Windbrechtinger (1922-2011) was produced in a lifelong partnership. Both studied architecture in Graz and opened an office together in Vienna in 1956. Prior to this, in 1954, they had been among the co-founders of the Austrian Society for Architecture (ÖGFA). Their interest in vernacular and regional building combined with a clear, stringent and contemporary architectural approach ensured socially committed architecture in Vienna, Styria and Lower Austria. Together with architect Viktor Hufnagl, who also celebrates his 100th birthday this year, they also had an opportunity to contribute their ideas for innovative housing concepts in a collaboration on the Am Schöpfwerk housing complex in 1120 Vienna.
1 https://inaltenundneuenstaedten. wordpress.com/2014/02/27/ ekazent-hietzing/ (28.2.2022)