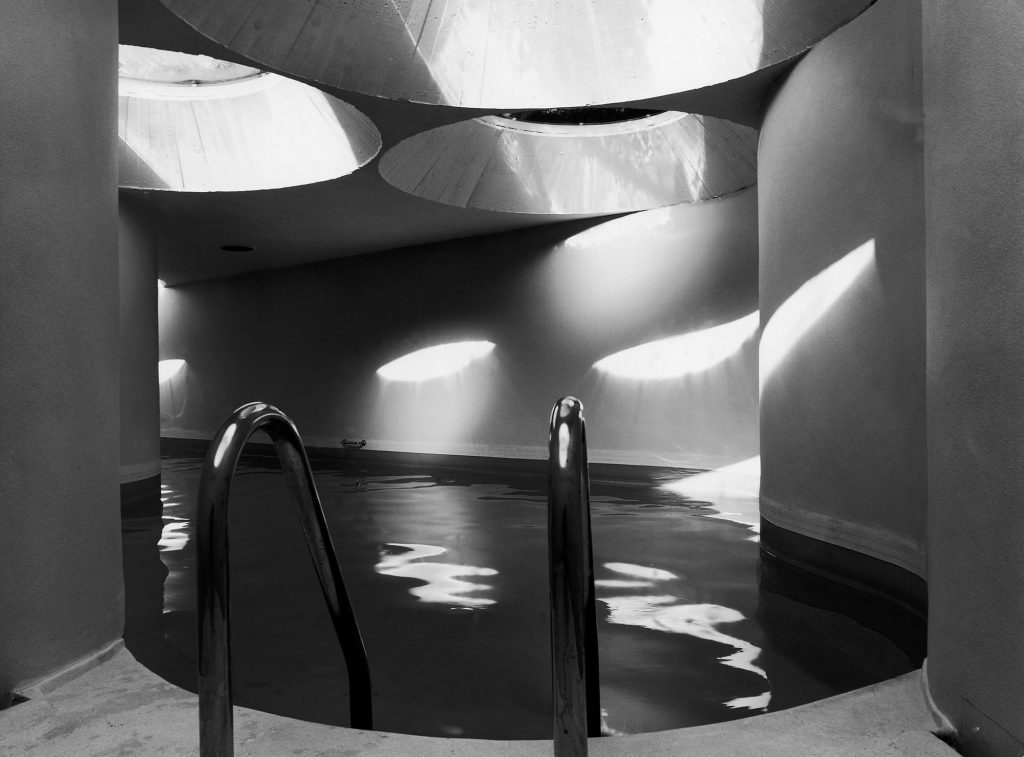 In 1969–1970 Josef Lackner created a poetic bathing house for the illustrator Paul Flora, who suffered from a chronic back condition. It had domed rooflights and planted concrete outer walls and was dubbed the 'Grottenbad', the grotto pool.
Built onto the existing residential building, it was accessible in the dry via the basement. The aim was to "repress the all too sporty aspect of such a brief in favour of a freer, more pleasurable concept". The 35 square metre area of water and the whole space could not be seen in their entirety from the entrance, so immersion had surprises to reveal. The facility was supplied with daylight from above by seven rooflights as well as being lit at night by outdoor spotlights. The play of light on the concrete walls inside was particularly beautiful when the sunlight and the moonlight wandered alternately through the large round openings in the ceiling and into the grotto pool. The amorphous shape of the meandering concrete pool that spread into the garden formed a welcome counterpoint to the existing house.
Unfortunately the pool was irretrievably lost in 2018. The planned conservation order on this icon was successfully avoided by the current owner due to an "accidentally felled" tree that rendered immediate demolition necessary. An outcry among experts ensued.
Josef Lackner was born in 1931 in Wörgl, Tyrol, and studied from 1949–1952 under Clemens Holzmeister at the Academy of Fine Arts Vienna. He had his own office in Innsbruck from 1961 and a professorship at the Faculty of Architecture at the University of Innsbruck from 1979. Lackner is primarily known for his church buildings, among which the Neu-Arzl church in Innsbruck (1958–1960), the Konzils-Gedächtniskirche church in Vienna-Lainz (1965–1968) and the church in Völs (1965–1967) are worth particular mention.