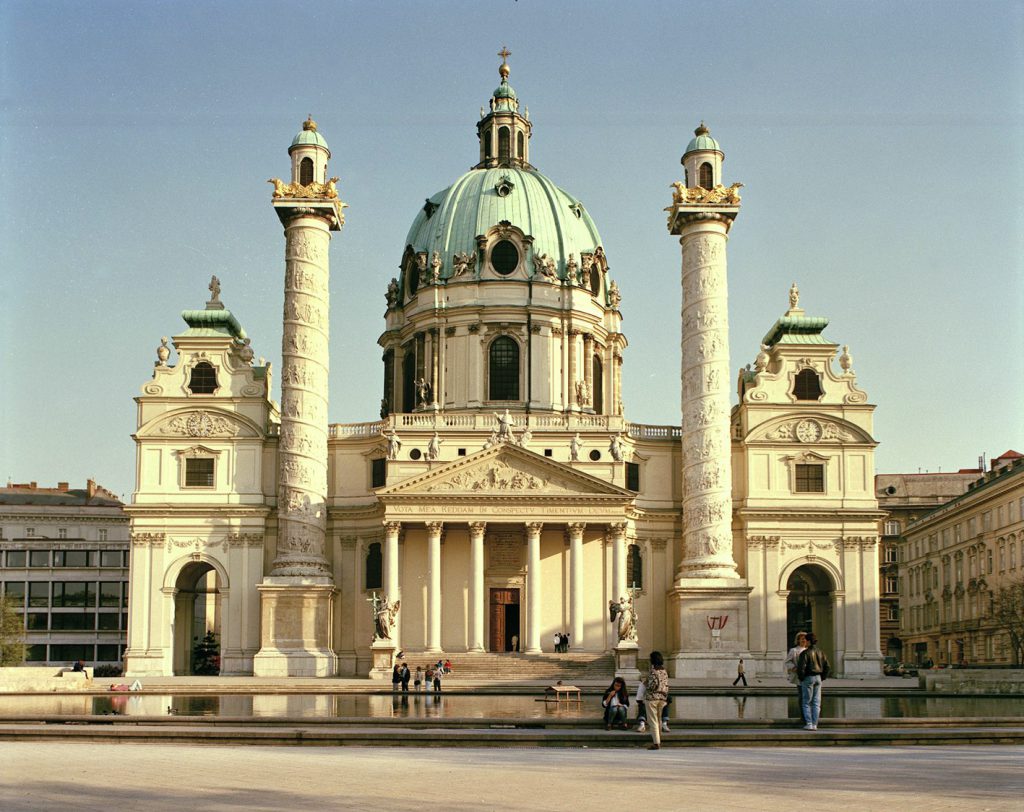 "If one starts from the delight in the spatial form of Baroque buildings — what madness, to build domes weighing tonnes and then make them disappear with painted skies! — it can be seen that the shape of the complex space and not the simplified box is a special skill of Austrian architects." (Wolf D. Prix)
Vienna's Karlskirche, the major work by Johann Bernhard Fischer von Erlach (1656-1723), has one of the most imposing Baroque domes in Austria. In 1715 he had won the architectural competition announced by Emperor Charles VI in gratitude for the end of the last great epidemic of the plague in Vienna. Fischer von Erlach drew on a number of historical models from different epochs for his design. While the columns flanking the entrance are reminiscent of the famous Trajan's Column in Rome, the entrance itself is modelled on a temple portico. Wolf D. Prix says: "Fischer von Erlach was an unrestrained copier." What sounds almost disrespectful here is an expression of great admiration.
"In any case, Baroque architecture is to be seen as a model for strong architecture, because it does not count the additive functions, being an expression of a flowing spatial design instead", says Prix about an architectural tradition that he sees continued in Austria by some well-known architects: by Friedrich Kiesler, for example, as well as by Hans Hollein, Walter Pichler, Raimund Abraham and Günther Domenig. And, of course, also in his own œuvre. The structural extension of a lawyer's office to include a conference room and further offices on the top floor of a Ringstrasse palace (6 Falkestrasse, 1010 Vienna, 1983, 1987–1988) marked the international breakthrough for Coop Himmelb(l)au. An essential feature of their design was the provocative glass construction for a corner solution — a reinterpretation of the dome, where "the desire to celebrate and to redefine space" manifests itself at the same time. A characteristic that, according to Wolf D. Prix, has distinguished and made Austrian architecture unmistakable for centuries, since Fischer von Erlach: "Fischer von Erlach was a strong architect. He knew how to position buildings in the (urban) landscape as monuments."
The two architects meet in our new permanent exhibition: a photograph from Margherita Spiluttini's extensive archives shows the imperial stables built by Fischer von Erlach before they were converted into today's MuseumsQuartier. A model of the loft extension on Falkestrasse by Coop Himmelb(l)au (Wolf D. Prix, Helmut Swiczinsky) illustrates their architectural concept, regarding the end of space as the beginning of architecture.
References:
Martina Kandeler-Fritsch, Thomas Kramer (Eds.), Wolf D. Prix, Coop Himmelb(l)au. Get off my Cloud, Texte 1968–2005, Ostfildern 2005.
Wolf D. Prix, Thomas Kramer (Eds.), Rock over Barock. Young and Beautiful: 7+2 (Prinz Eisenbeton 6). Springer, Vienna/New York 2006.
All statements by Wolf D. Prix are taken from an interview conducted for this presentation.