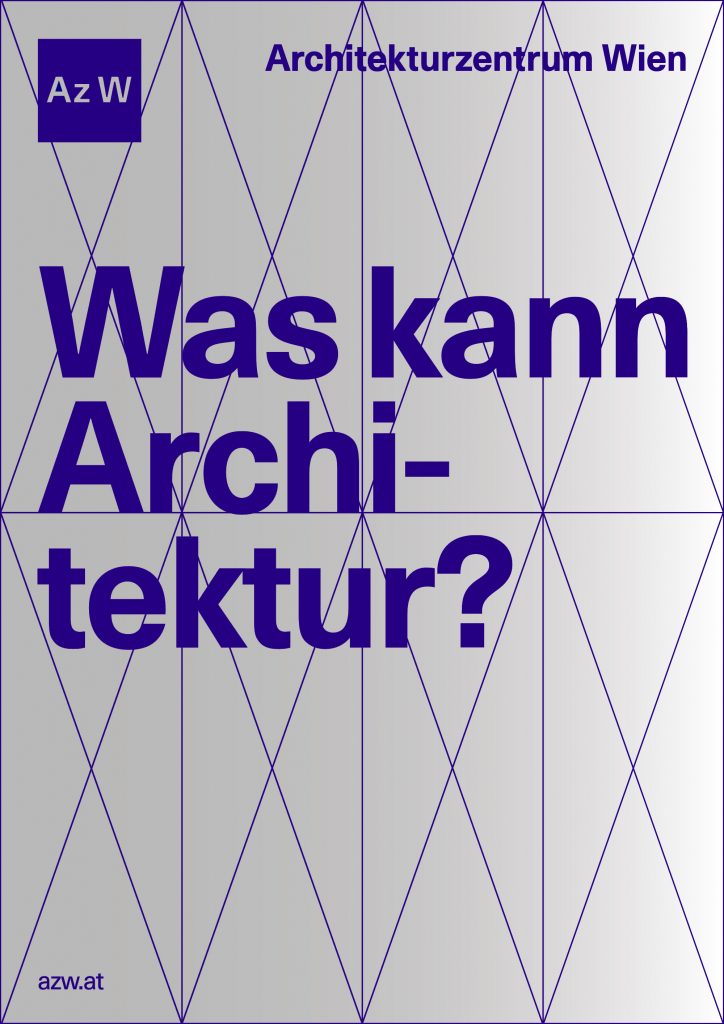 Mandatory disclosure in accordance with § 25 media and information requirements according to § 5 E-Commerce Gesetz (ECG)
Media owner/Publisher:
Architekturzentrum Wien
Museumsplatz 1
1070 Vienna
Austria
T+43-1-522 31 15
F+43-1-522 31 17
office@azw.at
Legal form: non profit-making association
Central association register number: 183225450
VAT no.: ATU39346301
Data processing register number: 0753921
Management:
Angelika Fitz, Director
Karin Lux, Executive Director
Area of activity:
The purpose of the association is to facilitate the scholarly analysis of art, architecture and design and in this way to support the general public in the academic, artistic and cultural areas. The aim of the association is achieved by research work and research commissions in the area of architecture and design, by collecting sketches, plans, projects, models and similar, by running an architecture museum, building up an architectural database and library, holding architecture exhibitions, meetings, congresses, lectures, panel discussions, guided tours and symposia, and by public relations work of all kinds.
Contents of the online service
Web presence to promote and support the area of activity
Data protection
We care about the protection of your personal data. We only use the information you share with us strictly in accordance with the provisions laid down by law (DSGVO, TKG 2003).
Contact with us
If you contact us using a form on the website or per email, the details you provide will be stored by us for purposes of processing your enquiry and for any follow-up questions. We do not pass on any of your personal data to third parties without your prior consent.
Cookies
Our website uses so-called 'cookies'. A cookie is a small package of text data, and is completely harmless.
We use cookies to improve the user-friendliness of our services. Some cookies remain on your hard drive until you delete them. They enable us to identify your browser the next time you visit our website.
If you do not want this, you can set your Preferences to inform you when setting a cookie, or to only allow cookies on an individual basis.
Not accepting cookies can impair some of the functions on our website.
Web analysis with Google Analytics
This website uses Google Analytics, a web analysis service provided by Google Inc. ('Google'), with whom we have a data processing contract.
The relationship to web analysis providers is based on the Privacy Shield agreement between the EU and the USA. Google has been licensed to operate under the Privacy Shield Framework since September 2017.
Data processing is undertaken on the basis of the legal provisions of Article 96(3) of the TKG as well as Article(6)(a, consent, &/or f, legitimate interest) of the GDPR. Our interest as defined by the GDPR (legitimate interest) is in improving our services and our online presence. Because we care about our users' privacy, all data is collected pseudonymously.
This website uses Google Analytics with the extension '_anonymizeIp'. IP addresses shared with Google are rendered anonymous by the removal of the last three digits. For further information, see: https://support.google.com/analytics/answer/2763052?hl=en
You can prevent Google from processing your data by installing a browser plug-in available as a download from http://tools.google.com/dlpage/gaoptout?hl=en
Further information on safeguarding your data at Google Analytics is available here: https://support.google.com/analytics/answer/6004245?hl=en
Newsletters & Monthly Programme
You have the opportunity to subscribe to our newsletters (Az W general newsletter, schools newsletter, press newsletter) and/or programme (per post), on our website. We just need your email address and contact details, as well as confirmation that you agree to receive the relevant newsletter/programme.
As soon as you have registered for the Newsletter we will send you a confirmation email with a link to confirm your subscription.
Newsletter subscriptions can be cancelled at any time. Please send cancellation requests to one of the following email addresses: newsletter@azw.at, presse@azw.at or bildung@azw.at. You details will be immediately updated on our newsletter and programme mailing list.
The Az W newsletter is sent through a service provided by eyepin Österreich GmbH (eyepin.com).
Subsequent data collection
When you download Press Images, we store your name, email address and press medium. This information serves only to confirm details of the download.
On joining the Az W Partner Programme we collect details of your name, email address, contact information and, where relevant to the kind of Partnership, your date of birth, matriculation number and company information. This information is for use in contacting you and, when relevant, billing, and stored in compliance with the legal provisions.
We use embedded offers from third party providers to improve the user experience and security of our website. If necessary, information is transmitted to the respective providers of the services or cookies are set by them in your browser:
Your rights
In principle, you have the rights to information, correction, deletion, restriction, data portability, revocation and objection. If you believe that the processing of your data violates data protection law or if your data protection rights have been infringed in any other way, you can complain to the supervisory authority. In Austria, this is the Austrian Data Protection Authority (Datenschutzbehörde).
How to contact us:
Architekturzentrum Wien
Museumsplatz 1
1070 Vienna
Austria
T+43-1-522 3115
F+43-1-522 3117
office@azw.at
Copyright and trademark law
In all publications the Az W makes every reasonable effort to observe the copyright of the texts, illustrations, graphics, video sequences and sound documents used, to use texts, illustrations, graphics, video sequences and sound documents produced by the Az W itself or by its contract partners, or to make use of royalty-free texts, illustrations, graphics, video sequences, and sound documents that are in the public domain.
All trademarks and brand names named in the internet services and possibly protected by third party rights are subject without reservation to the provisions of the respective valid trademark law and the ownership rights of the respective registered owners. Merely because they are mentioned it should not be assumed that trademarks are not protected by the rights of third parties!
The copyright for published objects produced either by the Az W itself or its contract partners remains solely with the Az W (author of the pages). The reproduction or use of such graphics, illustrations, sound documents, video sequences and texts in other electronic or printed publications without the express agreement of the author (Az W) is not permitted.
Trademarks
Where not otherwise stated, all trademarks are protected. This applies in particular to company logos and emblems.
No guarantee
This website was compiled with the greatest care. Nevertheless, the Az W cannot guarantee the freedom from errors and accuracy of the information contained herein. The Az W excludes any liability for damages incurred directly or indirectly by using this website, except where these resulted from malicious intent or gross negligence.
Dissociation from external links
The Az W expressly distances itself from all contents of all externally linked sites on this website. The Az W accepts no liability for the websites of third parties that can be accessed through links on this website. The owners and operators alone are responsible for the content and maintenance of these sites. Links on this website to third party sites are not recommendations and do not represent guarantees. We are not liable to recourse for untruths, exaggerations, or legal violations on the linked websites.
No licence
The intellectual property contained on this website is protected. A licence for the use of the intellectual property of the Az W or a third party is not granted through this website.
Website
Concept & programming
WIENFLUSS information.design.solutions KG
Project management & consultancy:
Confidelia e.U. | Karin Graf-Kaplaner
Design
Grafisches Büro
Editing:
Maria Falkner, Ines Purtauf, Alexandra Viehhauser
Events
By attending Az W events, you consent to the use for promotional purposes of any photographs and film footage of the event in which you might appear.