sonntags
sonntags 217
USA pacific north west: two cities on the water
Sa 16.05.2009 – So 24.05.2009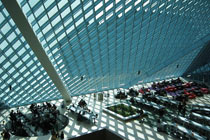 Alte Indianerkultur und moderne Kunst, atemberaubende Landschaft und herausragende neue Architektur, phantastische Küche und internationale Bevölkerung bestimmen das spezielle Flair der amerikanischen Pazifik Norwestküste mit ihren interessanten Hafenstädten. Wir besuchen die zwei besten: Seattle und San Francisco.
SEATTLE
* Pike Place Market
* Bellevue Art Museum: Steven Holl
* St. Ignatius Chapel: Steven Holl
* Public Library: R. Koolhaas, OMA
* SAM Seattle Art Museum
* Experience Music project: Frank Gehry
* Space Needle
* Smith Tower
* "Seattle Greatest HitsTour", Galeriebesuch und Empfang bei Wein und Käse-Empfang in der Seattle Architecture Foundation
* Olympic Sculpture Park
* Fähre nach Vashon Island
* House on Vashon: Domestic Architecture
* Seattle waterfront
SAN FRANCISCO
* de Young Museum. Fine Arts Museum of San Francisco: Herzog & de Meuron
* Golden Gate Park / California Academy of Sciences: Renzo Piano
* Contemporary Jewish Museum: Daniel Libeskind
* Federal Building: Morphosis
* Museum of Modern Art: Mario Botta
* Gallery House: ogrydziak / prillinger architects
* Fisherman's Wharf
* Conduit Restaurant: Natoma Architects
* Hallidie Building
* Embarcadero Center: John Portman
* Alcoa building: Skidmore Owings & Merrill
* Transamerica Pyramid: William L. Pereira
* China Town
* William Stout architectural bookstore
* SF Art Institute
Lokale ArchitektInnen, ExpertInnen: Roberta Miner (Seattle Architecture Foundation), Roy McMakin (Domestic Architecture), Luke Ogrydziak (ogrydziak / prillinger architects), u.a.
Exkursionsleitung: Marion Kuzmany
Tickets inklusive Flüge mit Lufthansa und United: Wien-Frankfurt-Seattle, Seattle-San Francisco, San Francisco-München-Wien, 7 Nächte+Frst. (4x Moore Hotel Seattle, 3x Hotel Whitcomb San Francisco), 7x Abend- u. 1x Mittagessen (exkl. Getränke), Eintritte, Flughafentransporte, Bus, öffentliche Verkehrsmittel, Museumseintritte und Führungen.
Max. TeilnehmerInnenanzahl: 25 Pers.
Detailliertes Programm auf Anfrage.
Treff Samstag, 16.05. um 05:30 Uhr Lufthansa check-in Flughafen Schwechat / Abflug 07:05 Uhr / retour Ankunft Sonntag, 24.05. um 20:20 Uhr
Bei schriftlicher Anmeldung erhalten Sie Rechnung und Erlagschein. Die Anmeldung gilt als Buchung und unterliegt den allgemeinen Stornobedingungen.
Allgemeine Stornobedingungen:
Kosten bei Reiserücktritt 30 Tage vor Abreise: 10%
29-20 Tage vor Abreise: 25%
19-10 Tage vor Abreise: 50%
9-4 Tage vor Abreise: 65%
ab 3 Tage vor Abreise: 85%
ab 1 Tag vor Abreise: 100%
Fixbuchung gültig ab vollständiger Zahlung.
Eindrücke von der Exkursion "sonntags 217. USA pacific north west: two cities on the water", die vom 16.-24. Mai 2009 stattgefunden hat.