Vortrag
BALKAN production_02
Im Gespräch mit ArchitektInnen aus Südosteuropa
Mi 29.10.2008, 19:00-21:00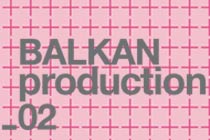 Eine Veranstaltungsreihe des Architekturzentrum Wien in Zusammenarbeit mit REHAU
Zum zweiten Mal widmet sich die Veranstaltungsreihe BALKAN production anhand von Impulsvorträgen und Diskussionen dem architektonischen Geschehen in Südosteuropa. Diesmal liefern engagierte, etablierte sowie aufstrebende Architekturbüros aus den jungen Republiken Bosnien Herzegowina, Kroatien und Mazedonien einen Einblick in die Architekturszene ihres Landes und regen zum Diskurs über die bestehende Situation und Zukunftsentwicklungen der Architektur in Südosteuropa an.
BALKAN production_02:
Vesna Vučinić, Architektin und Korrespondentin A10, im Gespräch mit:
Saša Randić, Randic-Turato, Rijeka / Kroatien
Sanja Galić-Grozdanić und Igor Grozdanić, studio nonstop, Sarajewo / Bosnien-Herzegowina:
"Sarajevo nonstop City"
Minas Bakalčev und Mitko Hadzi-Pulja, Ss. Cyril & Methodius Universität, Skopje / Mazedonien:
"Everyday Manifesto / Metamak Architecture"
BALKAN production:
= 2 Mal jährlich im Architekturzentrum Wien, in Kooperation mit REHAU
= Impulsvorträge und moderierte Gespräche über Architektur in Südosteuropa
= Jeweils 1 Vertreter von 3 Architekturbüros aus 3 verschiedenen Ländern des Balkan
In englischer Sprache, Eintritt frei!
Biografien (in Englisch)
BIOGRAFIEN DER VORTRAGENDEN:
(in Englisch)
VESNA VUČINIĆ
Born in Bonn, Germany, in 1972
School education in Munich, Belgrade and Vienna
Architecture studies at Vienna University of Technology and at the IUAV Venice. Graduated from Vienna University of Technology in 1999.
Freelance for various architects in Vienna from 1993 until 2001
Formation of os architecture in 2001
Assistance and co-ordination of MODULOR (2002–'05) — a platform for co-operative architectural education at the Faculty of Architecture and Planning, Vienna University of Technology.
Since 2005 Serbia correspondent for A10, an architecture magazine for and about new European architecture.
Architect licensing examination in Austria in 2007
Member of the Architects' Register (Stichting Bureau Architectenregister, SBA), NL, since 2007
Member of the Austrian Federal Economic Chamber since 2008
RANDIC-TURATO
Sasa Randic was born in 1964 in Rijeka, Croatia. He graduated from the University of Zagreb Faculty of Architecture (1990). In the following period he joined the post-graduate programme in the very first generation at the Berlage Institute in Amsterdam, where he got his MA in 1992. From 2003 to 2007 he was president of the Croatian Architects Association, where he initiated research on transformational processes on Croatian territory, including the Congress of Croatian Architects in 2004 and 2007. He was the director of Zagreb Salon in 2003 (commissioner: Stefano Boeri) and 2006 (commissioner: Manuel Gausa).
Sasa Randic and Idis Turato founded Randic-Turato architects in 1993. The office's work has been recognised for its characteristic response to the challenges of the transitional Croatian environment. In 2004 they received the Viktor Kovačić Award for the extension of the Technical Faculty in Rijeka. In 2005 they received Slovenian Piranesi Award for the elementary school in Krk and the Croatian state prize Vladimir Nazor in 2006. The same building has been included in the selection of the 2007 Mies van der Rohe EU Prize for Architecture. They have been nominated for the 2008 Swiss Architectural Award. In 2006 they represented Croatia at the 10th International Architecture Exhibition at the Biennale di Venezia.
STUDIO NONSTOP
studio nonstop was founded in 1999 by Igor Grozdanic, Sanja Galic-Grozdanic and Peter Eisenlauer with its offices in Sarajevo and Munich. Studio non stop Sarajevo is active in the field of urban and architectural programming, city planning, architectural and interior design, and construction supervision. During this time non stop has developed innovative urban and architectural solutions through close cooperation with our clients. The success of recent works by non stop is built on extensive trans-disciplinary procedures in analyses and the development of new dynamic and operational solutions for the increasing complexity of our glo-cal society.
Sanja Galic-Grozdanic, principal architect
1962. born in Doboj, BH
1980-1985. studied architecture at the School of Architecture, University of Sarajevo
1985-1991. worked in Dom SPI architectural office, Sarajevo
1991-1992. co-founder of Studio Arhiform, Sarajevo
(with Igor Grozdanic and Kenan Hasandedic)
1993-1994. worked in Studio Rondina, Bagni di Lucca, Italia
1994-1995. worked in Ebe + Ebe Architekten, Munich
1995-1998. cooperation with Design Studio Papo, Munich
1999-2008. co-founder of Studio non stop Sarajevo – Munich, (with P. Eisenlauer and I.Grozdanic)
Igor Grozdanic, principal architect
1962. born in Banja Luka, BH
1982-1987. studied architecture at the School of Architecture, University of Sarajevo
1987-1991. worked in Dom SPI architectural office, Sarajevo
1991-1992. cofounder of Studio Arhiform Sarajevo
(with Sanja Galic-Grozdanic and Kenan Hasandedic)
1992-1993. worked in Studio Rondina, Bagni di Lucca, Italia
1993-1998. worked in Henn Architekten, Munich, Germany
1999-2008. co-founder of Studio non stop Sarajevo – Munich (with P. Eisenlauer and Sanja Galic-Grozdanic)
MINAS BAKALCEV & MITKO HADZI PULJA
Minas Bakalcev
born in Skopje, Republic of Macedonia, in 1956
graduate at the Faculty of Architecture, Ss. Cyril and Methodius University, Macedonia, 1981
postgraduate work at the Faculty of Architecture, University of Belgrade, 1991
Ph.D at the Faculty of Architecture, Ss. Cyril and Methodius University, 2004
Academic Title: Ph.D, Professor
Residential Buildings, Architecture Design, Sociology of Housing
Faculty of Architecture, Ss. Cyril and Methodius University
2008 BRAVE NEW WORLD, IFA Institut für Auslandsbeziehungen, Berlin, project Brave New World Imprints — Towards the Face
2008 Metamak Cut-Outs, 12th International Architecture Exhibition, La Biennale di Venezia
Mitko Hadzi Pulja
born in Skopje, Republic of Macedonia, in 1957
graduate at the Faculty of Architecture, Ss. Cyril and Methodius University, 1982
postgraduate work at the Faculty of Architecture, University of Belgrade, 1993
Academic Title: Ms. C, Professor
Interior Architecture, Architecture Design, Theory of Form
Faculty of Architecture, Ss. Cyril and Methodius University